Charles Band's autobiography is coming November 16th!!!
Amazon
-
Renowned producer, director, and "B movie" showman Charles Band takes readers on a wild romp through Hollywood's decidedly un-Oscar-worthy underbelly, where mayhem and zombies reign supreme, and cheap thrills and entertainment are king

Zombies, aliens, a little skin, lots of gore—and even more laughs—the cinematic universe of Charles Band is legendary. From the toilet-invading creatures of Ghoulies to the time-travelling bounty hunter in Trancers to the pandemic-crashed Corona Zombies, Band has spent four decades giving B-movie lovers exactly what they love. In Confessions of a Puppetmaster, this congenial master of Grindhouse cinema tells his own story, uncut.

Born into a family of artists, Band spent much of his childhood in Rome where his father worked in the film industry. Early visits to movie sets sealed young Charlie's fate. By his twenties he had plunged into moviemaking himself and found his calling in exploitation movies—quick, low-budget efforts that exploit the zeitgeist and feed people's desire for clever, low-brow entertainment. His films crossed genres, from vampire flicks to sci fi to erotic musical adaptations of fairy tales. As he came into his own as a director, he was the first to give starring roles to household names like Demi Moore, Helen Hunt, and Bill Maher.

Off set, Band's life has been equally epic. Returning to his beloved Italy, he bought both Dino De Laurentiis's movie studio and a medieval castle. After Romania's oppressive communist regime fell, he circumvented the U.S. State Department to shoot films in Dracula's homeland. He made—and then lost—a moviemaking fortune. A visionary, Band was also at the vanguard of the transition to home video and streaming, making and distributing direct-to-video movies long before the major studios caught on.

In this revealing tell-all, Band details the dizzying heights and catastrophic depths of his four decades in showbiz. A candid and engaging glimpse at Hollywood's wild side, Confessions of a Puppetmaster is as entertaining as the movies that made this consummate schlockmeister famous.
----------------------------------------------------------------------------------------------------------------------------------------------------------------------------------------------------------
(05/28/2021)
BABY OOPSIE spinoff in development following Cleveland house purchase!!!
Beacon Journal
-
The house looks perfectly ordinary on a street lined with anything but ordinary homes.Fairmount Boulevard is home to relics of a bygone era when the movers and shakers of Cleveland a century ago looked east for greener pastures and a place to build stately estates. The homes look like something out of a movie with grand architecture and have relics of the bygone era when there were back staircases where servants could quietly move about and not disturb the owners. Life is pretty quiet nowadays along the boulevard on the city's edge in Cleveland Heights. Except for the occasional blood-curdling screams from one home that is about to become very familiar to fans of horror B movies. This particular home has a rather sinister side. It is currently home to an eccentric doll collector who has turned to YouTube for social acceptance and instead — like in life — is ridiculed. Her fortunes change one day when she picks up a charred antique doll head and decides to restore it on her social media channel. It turns out this particular doll — Baby Oopsie — has a checkered and haunted past, and murder and mayhem consume the 7,476-square-foot home. At least that's the home's storyline for this week. By next week, it will likely transform into something new when its new owner, Hollywood movie producer Charles Band, moves on to his next project. The house is now home to Full Moon Features.
With some 348 movies to his credit since 1973, Band is a fairly prolific horror genre moviemaker. He'll be the first to admit these aren't exactly Oscar-caliber works, but a few titles likely are a familiar rental or two from your local video store back in the day, including "Ghoulies" from 1984, "Re-Animator" from 1985 and "Trolls" a year later. The movies spawned many sequels and prequels just like his "Puppet Master" series of films. And then there's Baby Oopsie Daisy from his "Demonic Toys" franchise that is the subject of his latest effort and the first film being produced in Northeast Ohio Filming began Tuesday and is expected to wrap up Sunday on the film that used primarily a local cast and crew from the Cleveland and Akron areas. If all goes well, the film could be up and available for streaming at https://www.fullmoonfeatures.com/ and other streaming services as soon as June. The movie could also end up on a cable channel in the future.
"We really pound these out," he said. "We keep the content moving."
Band's not ready to say just yet what he's conjuring up in his head for the next flick — other than to say Baby Oopsie will not be the home's last tenant.With so many rooms at his disposal and with a little Hollywood magic, Band says, it can be transformed from a creepy ol' manor to a suburban home with just a coat of paint and the right furnishings.The 2,000-foot basement can be anything from an institutional hospital ward to a dank dungeon with the right lighting and a prop or two.
"This [home] is a living, breathing movie set," he said.
Back at the height of the VCR era, Band said, there was an insatiable appetite — particularly from the likes of Blockbuster — for his low-budget horror and slasher flicks to help fill the new releases shelves and keep customers coming back for more. Times may have changed, but with so many streaming channels now, there's once again a demand for new horror films. Band said he thinks this old house in Cleveland Heights might just be the answer he's been looking for to keep production costs down and the turnaround fast. He said the cost of real estate and studio rental space is astronomical in and around Hollywood — complicating his business formula. It was happenstance he even ended up with the home and new studio space in Ohio. He was visiting Cleveland months ago when he heard about this really cool big house that had fallen into disrepair and was stuck in real estate limbo. Situated in the Fairmount historic district, the home, built in 1916 by Cleveland architects Meade and Hamilton, was in peril. Its previous owners were two sisters who were looking to sell quickly and move out of the place. The home sold quickly, but closing the deal ran into roadblock after roadblock and was stuck in escrow. Band said he stepped in and offered $1,000 over the previous offer and was able to purchase it after clearing a myriad of legal and real estate hurdles. While Zillow says the home that includes a separate carriage house is worth $768,923, Band said, it needed a lot of TLC, including extensive plumbing and electrical work and a seven-page list of improvements dictated by the city before the sale could go through.
"I've been looking for another home away from home," he said. "You can't even buy a decent garage in a good neighborhood for $326,000 [the price he paid for the house and property]."
Band said just seven weeks after closing on the house he flew in a handful of actors and writer/director William Butler to begin filming "Baby Oopsie." He plans to rely primarily on Northeast Ohio for the talent and technical wizardry for his future projects. He's already dreaming up a possible Christmas special that will use the house he's calling Full Moon Manor as its setting. And he won't have to pay for any more fake Hollywood snow. "I can make movies for all eternity here."
----------------------------------------------------------------------------------------------------------------------------------------------------------------------------------------------------------
(04/09/2021)
RiffTrax tackles Full Moon's SHRUNKEN HEADS!!!

RiffTrax
-
When three teenage boys are gunned down in the street and a creepy old man saws their heads off after the funeral, you know you're in for some wacky hijinks and misadventures! Tommy, Bill, and Freddie are three comic book loving boys who return to life as Shrunken Heads thanks to their local shopkeeper / voodoo man, Mr. Sumatra. Mr. Sumatra used to be in the Tonton Macoute, which is a little like finding out that Sesame Street's kindly Mr. Hooper used to fly in the Luftwaffe. Through the well-known, traditional Shrunken Head powers of "flight" and "shooting lasers from their eyes" the boys embark on a mission of revenge (Cool!) and seduction (Disturbing!)

The decade is indeterminate, the tone inconsistent. And you'll never look at Whizzo The Clown the same way again! Maybe that's a good thing…? Join Mike, Kevin, and Bill for Shrunken Heads!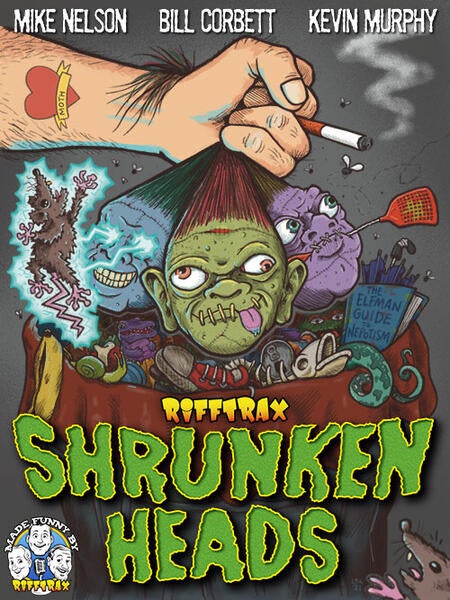 The cast of the cult TV series Mystery Science Theater 3000 are back again!
RiffTrax returns to the dark side of the Full Moon with a brand new VOD of 1994's Shrunken Heads. Only $9.99 to download the film with commentary. If you'd like, feel free to
Donate
and help fund future releases. There's plenty more films out there, and plenty more laughs to be found.
----------------------------------------------------------------------------------------------------------------------------------------------------------------------------------------------------------
(03/06/2021)
John 'Bud' Cardos, director of THE DAY TIME ENDED, has passed away!!!

The Hollywood Reporter
-
A jack of all trades, he worked on lots of exploitation films, often with B-movie maestro Al Adamson. John "Bud" Cardos, a stuntman, animal wrangler and director of films including The Red, White and Black, Kingdom of the Spiders and The Dark, has died. He was 91. Cardos died in his sleep Dec. 31 of natural causes at his home in Acton, California, where he had a horse ranch, his wife, Letty, told The Hollywood Reporter.

Cardos was an actor and stuntman for director Al Adamson on such exploitation films as Blood of Dracula's Castle (1969), Satan's Sadists (1969), Five Bloody Graves (1969), The Female Bunch (1971), Black Samurai (1976) and Death Dimension (1978). After Sam Peckinpah hired him to do stunts and serve as his second unit director on The Wild Bunch (1969), Cardos made his directorial debut with The Red, White and Black (1970), a Western featuring Rafer Johnson, Isabel Sanford and Barbara Hale. He went on helm Kingdom of the Spiders (1977), starring William Shatner; The Dark (1979), featuring William Devane, Cathy Lee Crosby and Casey Kasem; Mutant (1984), starring Bo Hopkins; Skeleton Coast (1988), featuring Ernest Borgnine; Act of Piracy (1988), starring Gary Busey; and a highly regarded documentary, Legends of the West (1992). However, he was most reno wned for his stunt work, and Quentin Tarantino reportedly once described him as "one of those dusty drinks of water who comes riding out of the chute on the back of some two-ton beast frothing at the mouth, bent on throwing him into the muck and stomping the shit out of him."

Born in St. Louis on Dec. 20, 1929, Cardos moved with his family to Los Angeles when he was 4. His uncle managed Grauman's Chinese Theatre and his father did the same for the Egyptian Theatre down the street on Hollywood Boulevard. As a youngster, he appeared in Our Gang comedy shorts, and Charles, Spyros and George Skouras, brothers who owned movie theaters, helped his dad open Johnnie Cardos' Club Café in Los Angeles. (Spyros later served for two decades as president of Fox.) During summers as a teenager in Big Bear, California, Cardos participated in rodeos, worked at stables and delivered horses to the sets of Roy Rogers and Gene Autry movies. After a 1946-52 stint in the U.S. Army, he was hired as a wrangler and stuntman on the CBS series Sergeant Preston of the Yukon, then handled feathered creatures on Alfred Hitchcock's The Birds (1963) and animals on NBC's Daniel Boone. Cardos played Native Americans on such TV shows as NBC's The High Chaparral and films including The Savage Seven (1968), and his stuntman résumé also included work in Hells Angels on Wheels (1967), A Man Called Dagger (1968) and Psych-Out (1968). Cardos also served as a production manager, art director and production designer during his career; more recently, he was a driver on such movies as City of Industry (1997) and Memento (2000) and appeared in Danger God (2018), a documentary about stuntman Gary Kent that was directed by Joe O'Connell. "You've got to be very athletic, but that doesn't mean you can do stunts," he says in the film. "A stunt, to me, has to be done without even thinking about it. You've got to know what you're going to do, and it has to happen, that fast! … I used to fall [off horses] on a complete dead run, get shot right off, backward, sideways, whatever you want. Never had a scratch."

Survivors include his daughters Debbie, Kim, Judy and Cindy.
John 'Bud' Cardos worked with Charles Band on the 1979 sci-fi film The Day Time Ended, currently available at Full Moon Direct, and featured on the cult TV series Mystery Science Theater 3000.

----------------------------------------------------------------------------------------------------------------------------------------------------------------------------------------------------------
(02/26/2021)
New Lovecraft adaptation THE RESONATOR: MISKATONIC U, Part 1, premiers tonight!!!

Full Moon Features
-
The first chapter in director William Butler's serialized psychedelic H.P. Lovecraft homage THE RESONATOR: MISKATONIC U has premiered TODAY exclusively on Full Moon Features and will premiere MONDAY, March 1st on Full Moon's Amazon Prime channel!

THE RESONATOR - a companion of sorts to Stuart Gordon's 1986 H.P. Lovecraft classic FROM BEYOND stars a cast of sexy young newcomers as well as genre film legends Michael Pare (STREETS OF FIRE, EDDIE AND THE CRUISERS), Amanda Wyss (A NIGHTMARE ON ELM STREET, FAST TIMES AT RIDGEMONT HIGH) and Empire Pictures alumni Jeffrey Byron (THE DUNGEONMASTER, METALSTORM).

In this first chapter, visionary Miskatonic University student Crawford Tillinghast follows in his late father's footsteps and becomes obsessed with completing work on The Resonator, an inter-dimensional device that opens doorways to other worlds. With the aid of his closest friends, they manage to get the machine and running...with terrifying results!

Watch THE RESONATOR: MISKATONIC U today and spread the word! And remember to tune in NEXT FRIDAY for the exciting final chapter, where Tillinghast and his team of eccentrics unlock the ultimate horror of the Resonator! Don't miss it!
Full Moon's The Resonator: Miskatonic U is a loose adaptation of H.P. Lovecraft's public domain short story "From Beyond," which was originally adapted in 1986 by director Stuart Gordon. Returning alongside director William Butler from those Empire Pictures days is actor Jeffrey Byron (far right) from 1983's Metalstorm: The Destruction of Jared-Syn and 1984's The Dungeonmaster.

----------------------------------------------------------------------------------------------------------------------------------------------------------------------------------------------------------
(01/22/2021)
Upcoming Full Moon films include DEMONIC TOYS spinoff!!!
SyFy
-
Since the late 1980s, Full Moon Features has established itself as one of the most recognizable names in direct-to-video horror with the Puppet Master and Subspecies film franchises. More than three decades later, and the Charles Band-founded production company shows no signs of slowing down. In fact, Full Moon is gearing up for an entire year of horrific new releases in 2021, and SYFY WIRE has an exclusive first look at three spine-tingling titles that were safely shot during the COVID-19 pandemic.
Don't Let Her In
First up, coming this May, we've got Don't Let Her In, a Rosemary's Baby-esque tale of terror in which an attractive young couple, Ben and Amber, rent their spacious loft to an eccentric and beautiful artist named Serena. However, they soon live to regret that decision when their seductive new tenant invades their minds, their beds, and the very fabric of their lives. When Amber discovers that she's pregnant, she and Ben start to suspect that the fetus growing in her womb is not a human child, but something not of this world...something evil. Is Serena really an artist as she so claims, or is she actually on a maternal mission from Hell itself? The project hails from Subspecies writer-director Ted Nicolaou.


Demonic Toys: Baby Oopsie
This June, we get a thumb-sucking, diaper-filling freak-out from writer/director William Butler (Miskatonic U: The Resonator): the latest entry in the Demonic Toys series, Baby Oopsie. In his first solo outing, the titular evil plaything unleashes a nasty and nightmarish wave of horror that's totally NSFD (Not Safe for Daycare)! It's also worth noting that the Demonic Toys IP predates the Annabelle films by a good two decades.


Piranha Women
Last, but most certainly not least, we've got Piranha Women, coming this July. And yes, it's just as badass as it sounds. Written and directed by Lindsey Schmitz (Femalien: Cosmic Crush), the aquatic feature centers around "the world's curviest thieves," who "become more than women...and less than human," according to the official synopsis. "Terror rides on high tides in this sexy and outrageous tale of science run amok that's even madder than 'Moreau,' the synopsis adds, cheekily referring to the human/animal hybrid hijinks of H.G. Wells' The Island of Dr. Moreau.

----------------------------------------------------------------------------------------------------------------------------------------------------------------------------------------------------------
(01/05/2021)

TOURIST TRAP star Tanya Roberts has passed away!!!

TMZ
-
Tanya Roberts died Monday night at L.A.'s Cedars-Sinai Hospital following a bizarre turn of events that included her domestic partner incorrectly telling her rep she had died the day before.

Her partner, Lance O'Brien, tells TMZ ... he got a call from one of Tanya's doctor's Monday night, just after 9 PM, telling him Tanya had passed. As you've probably heard by now, Lance told her publicist on Sunday Tanya was dead. He tried explaining his mistake Monday, telling us he had visited her in the hospital Sunday, and she suddenly opened her eyes but then shut them and he saw her fade away. He says he thought she was dead and left, without speaking to medical staff. He got a phone call Monday from Cedars, informing him Tanya was still alive. Tanya's rep, who picked Lance up from the hospital, says he told him, "She died in my arms." Tanya will be remembered for much more than her bizarre final hours -- she will truly be remembered for her long and successful career as a model and actress. With all her success, the show that made her an icon is "That '70s Show." Tanya played Donna Pinciotti's mom, Midge, whom all the boys in the neighborhood couldn't stop ogling.

In her heyday, Tanya was a go-to model, appearing as Bond girl Stacey Sutton opposite Roger Moore in "A View to a Kill." She also posed for Playboy and did ads for Clairol, Cool Ray sunglasses, Excedrin and Ultra Brite. Getty On the big screen, Tanya starred in a slew of slashers, raunchy comedies and action/erotica B-films like "Legal Tender," "Sins of Desire," "Inner Sanctum," "Deep Down," "Almost Pregnant," "Night Eyes," "Tourist Trap" and "Favorite Deadly Sins," among others. Tanya had 41 acting credits to her name, including starring roles in campy adventure fantasy flicks like "The Beastmaster" and "Sheena." She had a year-long stint on the old "Charlie's Angels" show, helping the Angels solve crimes as one of the three angels themselves -- namely, portraying Julie Rogers, after replacing actress Shelley Hack.
Tanya was married to Barry Roberts for several years, but they didn't have any children before his death in 2006. She's survived by Lance and her sister, Barbara Chase. Tanya was 65.
Charlie Band fans may remember Tanya as Becky from the 1979 cult classic Tourist Trap, which is available on DVD and Blu-Ray through Full Moon Features.