RiffTrax tackles Full Moon's SHRUNKEN HEADS!!!

RiffTrax
-
When three teenage boys are gunned down in the street and a creepy old man saws their heads off after the funeral, you know you're in for some wacky hijinks and misadventures! Tommy, Bill, and Freddie are three comic book loving boys who return to life as Shrunken Heads thanks to their local shopkeeper / voodoo man, Mr. Sumatra. Mr. Sumatra used to be in the Tonton Macoute, which is a little like finding out that Sesame Street's kindly Mr. Hooper used to fly in the Luftwaffe. Through the well-known, traditional Shrunken Head powers of "flight" and "shooting lasers from their eyes" the boys embark on a mission of revenge (Cool!) and seduction (Disturbing!)

The decade is indeterminate, the tone inconsistent. And you'll never look at Whizzo The Clown the same way again! Maybe that's a good thing…? Join Mike, Kevin, and Bill for Shrunken Heads!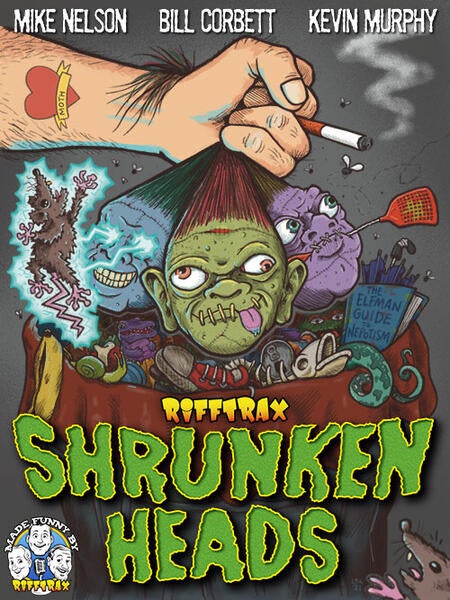 The cast of the cult TV series Mystery Science Theater 3000 are back again!
RiffTrax returns to the dark side of the Full Moon with a brand new VOD of 1994's Shrunken Heads. Only $9.99 to download the film with commentary. If you'd like, feel free to
Donate
and help fund future releases. There's plenty more films out there, and plenty more laughs to be found.
----------------------------------------------------------------------------------------------------------------------------------------------------------------------------------------------------------
(03/06/2021)
John 'Bud' Cardos, director of THE DAY TIME ENDED, has passed away!!!

The Hollywood Reporter
-
A jack of all trades, he worked on lots of exploitation films, often with B-movie maestro Al Adamson. John "Bud" Cardos, a stuntman, animal wrangler and director of films including The Red, White and Black, Kingdom of the Spiders and The Dark, has died. He was 91. Cardos died in his sleep Dec. 31 of natural causes at his home in Acton, California, where he had a horse ranch, his wife, Letty, told The Hollywood Reporter.

Cardos was an actor and stuntman for director Al Adamson on such exploitation films as Blood of Dracula's Castle (1969), Satan's Sadists (1969), Five Bloody Graves (1969), The Female Bunch (1971), Black Samurai (1976) and Death Dimension (1978). After Sam Peckinpah hired him to do stunts and serve as his second unit director on The Wild Bunch (1969), Cardos made his directorial debut with The Red, White and Black (1970), a Western featuring Rafer Johnson, Isabel Sanford and Barbara Hale. He went on helm Kingdom of the Spiders (1977), starring William Shatner; The Dark (1979), featuring William Devane, Cathy Lee Crosby and Casey Kasem; Mutant (1984), starring Bo Hopkins; Skeleton Coast (1988), featuring Ernest Borgnine; Act of Piracy (1988), starring Gary Busey; and a highly regarded documentary, Legends of the West (1992). However, he was most reno wned for his stunt work, and Quentin Tarantino reportedly once described him as "one of those dusty drinks of water who comes riding out of the chute on the back of some two-ton beast frothing at the mouth, bent on throwing him into the muck and stomping the shit out of him."

Born in St. Louis on Dec. 20, 1929, Cardos moved with his family to Los Angeles when he was 4. His uncle managed Grauman's Chinese Theatre and his father did the same for the Egyptian Theatre down the street on Hollywood Boulevard. As a youngster, he appeared in Our Gang comedy shorts, and Charles, Spyros and George Skouras, brothers who owned movie theaters, helped his dad open Johnnie Cardos' Club Café in Los Angeles. (Spyros later served for two decades as president of Fox.) During summers as a teenager in Big Bear, California, Cardos participated in rodeos, worked at stables and delivered horses to the sets of Roy Rogers and Gene Autry movies. After a 1946-52 stint in the U.S. Army, he was hired as a wrangler and stuntman on the CBS series Sergeant Preston of the Yukon, then handled feathered creatures on Alfred Hitchcock's The Birds (1963) and animals on NBC's Daniel Boone. Cardos played Native Americans on such TV shows as NBC's The High Chaparral and films including The Savage Seven (1968), and his stuntman résumé also included work in Hells Angels on Wheels (1967), A Man Called Dagger (1968) and Psych-Out (1968). Cardos also served as a production manager, art director and production designer during his career; more recently, he was a driver on such movies as City of Industry (1997) and Memento (2000) and appeared in Danger God (2018), a documentary about stuntman Gary Kent that was directed by Joe O'Connell. "You've got to be very athletic, but that doesn't mean you can do stunts," he says in the film. "A stunt, to me, has to be done without even thinking about it. You've got to know what you're going to do, and it has to happen, that fast! … I used to fall [off horses] on a complete dead run, get shot right off, backward, sideways, whatever you want. Never had a scratch."

Survivors include his daughters Debbie, Kim, Judy and Cindy.
John 'Bud' Cardos worked with Charles Band on the 1979 sci-fi film The Day Time Ended, currently available at Full Moon Direct, and featured on the cult TV series Mystery Science Theater 3000.

----------------------------------------------------------------------------------------------------------------------------------------------------------------------------------------------------------
(02/26/2021)
New Lovecraft adaptation THE RESONATOR: MISKATONIC U, Part 1, premiers tonight!!!

Full Moon Features
-
The first chapter in director William Butler's serialized psychedelic H.P. Lovecraft homage THE RESONATOR: MISKATONIC U has premiered TODAY exclusively on Full Moon Features and will premiere MONDAY, March 1st on Full Moon's Amazon Prime channel!

THE RESONATOR - a companion of sorts to Stuart Gordon's 1986 H.P. Lovecraft classic FROM BEYOND stars a cast of sexy young newcomers as well as genre film legends Michael Pare (STREETS OF FIRE, EDDIE AND THE CRUISERS), Amanda Wyss (A NIGHTMARE ON ELM STREET, FAST TIMES AT RIDGEMONT HIGH) and Empire Pictures alumni Jeffrey Byron (THE DUNGEONMASTER, METALSTORM).

In this first chapter, visionary Miskatonic University student Crawford Tillinghast follows in his late father's footsteps and becomes obsessed with completing work on The Resonator, an inter-dimensional device that opens doorways to other worlds. With the aid of his closest friends, they manage to get the machine and running...with terrifying results!

Watch THE RESONATOR: MISKATONIC U today and spread the word! And remember to tune in NEXT FRIDAY for the exciting final chapter, where Tillinghast and his team of eccentrics unlock the ultimate horror of the Resonator! Don't miss it!
Full Moon's The Resonator: Miskatonic U is a loose adaptation of H.P. Lovecraft's public domain short story "From Beyond," which was originally adapted in 1986 by director Stuart Gordon. Returning alongside director William Butler from those Empire Pictures days is actor Jeffrey Byron (far right) from 1983's Metalstorm: The Destruction of Jared-Syn and 1984's The Dungeonmaster.

----------------------------------------------------------------------------------------------------------------------------------------------------------------------------------------------------------
(01/22/2021)
Upcoming Full Moon films include DEMONIC TOYS spinoff!!!
SyFy
-
Since the late 1980s, Full Moon Features has established itself as one of the most recognizable names in direct-to-video horror with the Puppet Master and Subspecies film franchises. More than three decades later, and the Charles Band-founded production company shows no signs of slowing down. In fact, Full Moon is gearing up for an entire year of horrific new releases in 2021, and SYFY WIRE has an exclusive first look at three spine-tingling titles that were safely shot during the COVID-19 pandemic.
Don't Let Her In
First up, coming this May, we've got Don't Let Her In, a Rosemary's Baby-esque tale of terror in which an attractive young couple, Ben and Amber, rent their spacious loft to an eccentric and beautiful artist named Serena. However, they soon live to regret that decision when their seductive new tenant invades their minds, their beds, and the very fabric of their lives. When Amber discovers that she's pregnant, she and Ben start to suspect that the fetus growing in her womb is not a human child, but something not of this world...something evil. Is Serena really an artist as she so claims, or is she actually on a maternal mission from Hell itself? The project hails from Subspecies writer-director Ted Nicolaou.


Demonic Toys: Baby Oopsie
This June, we get a thumb-sucking, diaper-filling freak-out from writer/director William Butler (Miskatonic U: The Resonator): the latest entry in the Demonic Toys series, Baby Oopsie. In his first solo outing, the titular evil plaything unleashes a nasty and nightmarish wave of horror that's totally NSFD (Not Safe for Daycare)! It's also worth noting that the Demonic Toys IP predates the Annabelle films by a good two decades.


Piranha Women
Last, but most certainly not least, we've got Piranha Women, coming this July. And yes, it's just as badass as it sounds. Written and directed by Lindsey Schmitz (Femalien: Cosmic Crush), the aquatic feature centers around "the world's curviest thieves," who "become more than women...and less than human," according to the official synopsis. "Terror rides on high tides in this sexy and outrageous tale of science run amok that's even madder than 'Moreau,' the synopsis adds, cheekily referring to the human/animal hybrid hijinks of H.G. Wells' The Island of Dr. Moreau.


----------------------------------------------------------------------------------------------------------------------------------------------------------------------------------------------------------
(01/05/2021)

TOURIST TRAP star Tanya Roberts has passed away!!!

TMZ
-
Tanya Roberts died Monday night at L.A.'s Cedars-Sinai Hospital following a bizarre turn of events that included her domestic partner incorrectly telling her rep she had died the day before.

Her partner, Lance O'Brien, tells TMZ ... he got a call from one of Tanya's doctor's Monday night, just after 9 PM, telling him Tanya had passed. As you've probably heard by now, Lance told her publicist on Sunday Tanya was dead. He tried explaining his mistake Monday, telling us he had visited her in the hospital Sunday, and she suddenly opened her eyes but then shut them and he saw her fade away. He says he thought she was dead and left, without speaking to medical staff. He got a phone call Monday from Cedars, informing him Tanya was still alive. Tanya's rep, who picked Lance up from the hospital, says he told him, "She died in my arms." Tanya will be remembered for much more than her bizarre final hours -- she will truly be remembered for her long and successful career as a model and actress. With all her success, the show that made her an icon is "That '70s Show." Tanya played Donna Pinciotti's mom, Midge, whom all the boys in the neighborhood couldn't stop ogling.

In her heyday, Tanya was a go-to model, appearing as Bond girl Stacey Sutton opposite Roger Moore in "A View to a Kill." She also posed for Playboy and did ads for Clairol, Cool Ray sunglasses, Excedrin and Ultra Brite.

Getty On the big screen, Tanya starred in a slew of slashers, raunchy comedies and action/erotica B-films like "Legal Tender," "Sins of Desire," "Inner Sanctum," "Deep Down," "Almost Pregnant," "Night Eyes," "Tourist Trap" and "Favorite Deadly Sins," among others. Tanya had 41 acting credits to her name, including starring roles in campy adventure fantasy flicks like "The Beastmaster" and "Sheena." She had a year-long stint on the old "Charlie's Angels" show, helping the Angels solve crimes as one of the three angels themselves -- namely, portraying Julie Rogers, after replacing actress Shelley Hack.
Tanya was married to Barry Roberts for several years, but they didn't have any children before his death in 2006. She's survived by Lance and her sister, Barbara Chase. Tanya was 65.
Charlie Band fans may remember Tanya as Becky from the cult classic Tourist Trap, which is available on DVD and Blu-Ray through Full Moon Features.