PUPPET MASTER: AXIS TERMINATION is coming to DVD and Blu-Ray November 30th!!!
Full Moon Direct - Toulon's immortal and deadly puppets return - witness the exciting action-packed conclusion and the final chapter to the Puppet Master Axis trilogy saga!
To stop the Third Reich and the Nazi war machine from winning World War II and affecting the outcome fo the free world, BLADE, JESTER, LEECH WOMAN, PINHEAD and the rest of the indestructible Toulon puppets join forces with the masters of psychic powers! Teaming up with Toulon's bloodthirsty marionettes, these unlikely allies face off against a few pack of powerful Nazis and their own clan of malevolent puppets; WEREMACHT, BOMBSHELL and the unstoppable tank-like BLITZKRIEG.
It is good 'Toulon' puppet vs evil 'Nazi' puppet in the ultimate and final battle that will determine the fate of the entire world!
------------------------------------------------------------------------------------------------------
(10/27/2017)
REMINDER - A new book on the history of Full Moon Pictures is hitting shelves October 28!!!
Dread Central - There's going to be a Full Moon right before Halloween this year, but it's not "that" kind of full moon. It Came from the Video Aisle! hits bookshelves October 28th, promising to take readers inside Charles Band's Full Moon Entertainment Studio like nothing before.
For our younger readers who don't know what a "video aisle" is: Once upon a time, there were these places called "video stores." In them were row after row, shelf after shelf, of movies on VHS (and later DVD and Blu-ray). These were the video aisles. People like you would peruse these aisles looking for movies to rent for a night or two and then return to the store. Some of these movies were more cheaply produced and made exclusively for the home video market.
One of the greatest purveyors of such direct-to-video movies was a man named Charles Band. First he ruled a theatrical empire. Then he began casting a Full Moon over video stores right at the dawn of direct-to-video fare.
It Came from the Video Aisle! is his story…
Charles Band's Full Moon Entertainment was the most remarkable B-movie studio of the 1990s, responsible for a barrage of sci-fi, fantasy, and horror classics during the last true "golden age" of the home video era. From Puppetmaster to Trancers and beyond, Full Moon transformed the VHS experience for fans worldwide, bringing the inner workings of the movie-making process into the living room, and in turn creating a ravenous fanbase that remains to this day. This book tracks the history of the company, from its late '80s birth among the ruins of the American drive-in through to its bid to survive in the modern digital world. Featuring rare artwork, behind-the-scenes photos, and over 60 exclusive interviews with the cast and crew who helped to create the legendary B-movie studio, this is an essential read for any cult film fan still lamenting the death of the "mom 'n pop" video store.
Boasting interviews with over 60 directors, actors, producers, and crew and featuring over 400 behind-the-scenes photos, posters, and artwork (many never before published), It Came from the Video Aisle! is going to be a must-read for any fan of Full Moon or the golden age of home video entertainment when his company launched. Even though Charles Band personally authorized this book, I've been told there are some sordid details regarding the company's history that just can't be sugarcoated.
Featured interviewees include Charles Band himself, Richard Band, Jackson Barr, Adolfo Bartoli, J.R. Bookwalter, Jeff Burr, William Butler, J.S. Cardone, Benjamin Carr, Peter David, Sonny Carl Davis, Mike Deak, Danny Draven, Richard Elfman, Jack Ersgard, Ernest Farino, Jeff Farley, Brent Friedman, Stuart Gordon, Trent Haaga, Kenneth J. Hall, Linda Hassani, Sam Irvin, Mel Johnson, Jr., Rolf Kanefsky, John Lechago, Jacqueline Lovell, Lee MacLeod, Peter Manoogian, Mark Manos, Ed Naha, Ted Nicolaou, Dennis Paoli, Dave Parker, Vlad Paunescu, Albert Pyun, Mark Rappaport, Fred Olen Ray, Ethan Reiff, Duncan Rouleau, David Schmoeller, Gary Schmoeller, Pat Siciliano, Venesa Talor, Tim Thomerson, Cyrus Voris, and Graeme Whifler. Nathan Shumate, Jay Woelfel, Chris Endicott, Thomas Sueyres, Dave Wain, and Matty Budrewicz are amongst the guest contributors. Full Moon fixture C. Courtney Joyner penned the foreword.
I suppose as long as it's not just Charles Band's side of the story, this should make for an interesting read.
------------------------------------------------------------------------------------------------------
(10/16/2017)
R.I.P., actor Roy Dotrice of ELIMINATORS!!!
BBC - Actor Roy Dotrice, known for his role as Leopold Mozart in the Oscar-winning film Amadeus, has died aged 94. His family said he died at his London home, surrounded by relatives.
A character actor, Guernsey-born Mr Dotrice gained new fans in recent years as the narrator of A Song of Ice and Fire, a series of novels that inspired TV hit Game of Thrones, which he also starred in.
In 2008, he was awarded an OBE for services to drama by the Queen.
A family statement said he "died peacefully on Monday October 16 in his London home surrounded by family, including his three daughters, grandchildren and great-grandson".
Mr. Dotrice joined the Royal Air Force and served during World War Two as a wireless operator and air gunner. His plane was shot down and he was held as a prisoner of war, where his first taste for the theatre took root, performing concerts for his fellow inmates.
Mr Dotrice's narration of George R.R, Martin's A Song of Ice and Fire saw him awarded a place in the Guinness World Records in 2004 for the greatest number of characters voiced in an audio book - 224.
During his decades-long career as an actor, Mr. Dotrice won accolades including a Tony award and a Bafta for best actor as Albert Haddock in the BBC adaptation of AP Herbert's Misleading Cases.
He also appeared in TV series Game of Thrones, Shaka Zulu, Mr And Mrs Smith and Life Begins, and films Eliminators, The Cutting Edge and Hellboy II: The Golden Army.
He was married to wife Kay for 60 years, until her death in 2007. They had three daughters together, all of whom became actresses.
Fans of Empire Pictures may remember him as the villainous Abbott Reeves in the 1986 Sci-Fi Action film Eliminators.
------------------------------------------------------------------------------------------------------
(10/04/2017)
LASERBLAST is coming to Blu-Ray October 10th!!!
Dread Central - Bless you, Full Moon! Charles Band stated during his appearance on Brainwaves: Horror and Paranormal Talk Radio that cult classic Laserblast is coming to Blu-ray for the very first time, and we are elated! Read on for a few more details.
From the Press Release:
Crawling up from Full Moon's primordial ooze is Laserblast, a bona fide Charles Band classic and one of the weirdest science fiction tales ever told!
Happy go-lucky Billy Duncan discovers an otherworldly laser gun in the southern California desert, making him the target of a pair of aliens (rendered in stop-motion by the late, great David Allen) who recently executed its previous owner. As Billy revels in the power of the weapon, he begins to change, his skin taking on a green hue and his mind becoming more and more malevolent. As the tainted teen becomes more powerful and lethal, it's up to the local authorities and the aliens to stop him before he blasts his way to oblivion!
Laserblast co-stars the legendary Roddy McDowall (Planet of the Apes, Fright Night) and Keenan Wynn (Kiss Me Kate, Clonus) and marks the first appearace of nerd icon Eddie Deezan. It also makes the first feature length score by Joel Goldsmith (son of Jerry) and Richard Band.
Laserblast appears here for the first time on Blu-ray in High-Def on October 10, 2017, remastered from the original 35mm answer print. Special features include a BRAND NEW feature-length commentary by Charles and Richard Band.
To be honest, I was always a bigger fan of the Mystery Science Theater 3000 Season 6 episode, in which this was featured, than the actual film itself. But I have no doubt there are fans of the original, uncut film. For anyone interested, the MST3K episode is available in the 20th Anniversary Edition DVD collection set, also known as Volume 13, from Shout! Factory.
------------------------------------------------------------------------------------------------------
(09/29/2017)
RiffTrax now tackles OBLIVION in a brand new VOD!!!
RiffTrax - It's Cowboys & Aliens in the Wild Wild West! How could a sci-fi western about either of those things possibly be bad?
A sleepy western town has been overrun. Not by varmints, but by D-list actor cameos! No amount of fame is too minor or fleeting to warrant disproportionate amounts of screentime!
Issac Hayes! Julie Newmar! And of course a rarely seen acting appearance by professional meme sharer George Takei!
Standing in their way is the evil alien Redeye, who has fallen on hard times after his successful southern gravy campaign. He's in a bad mood, possibly because whatever his cheap lizard mask is made of is itching like hell, maybe even causing a lifelong skin condition. At the very least it certainly can't smell very good.
All this, plus sexy cyborgs, steampunk sidekicks, some actually pretty cool stop motion effects, that creepy guy from Twin Peaks, (no, not that one, the other one), and zero, we repeat ZERO huge robot spiders! Join Mike, Kevin, and Bill for Oblivion!
The cast of the cult TV series Mystery Science Theater 3000 return.
Only $9.99 to Download the entire film, with commentary. If you'd like, feel free to Donate and help fund future releases. There's plenty more films out there, and plenty more laughs to be found.
------------------------------------------------------------------------------------------------------
(09/14/2017)
Full Moon's PUPPET MASTER Blu-Ray Collection is coming!!!
Dread Central - If you're a Full Moon, or more specifically a Puppet Master, fan, this next story is gonna engorge your geek boner to enormously obscene proportions… As announced during Charles Band's appearance on Brainwaves, get ready for your first look at THE ULTIMATE PUPPET MASTER COLLECTIBLE – Toulon's Trunk!
A replica of the mystical Andre Toulon's travelling case in the Puppet Master franchise, Toulon's Trunk is a stunning wood and metal-forged box set containing all 11 official Puppet Master films remastered on Blu-ray as well as a bonus disc, a mini Blade figure (more mini figures will be released this year to add to the collection), collectible booklet, startling new cover artwork for each film, and much more! Each box set will be numbered and signed by producer Charles Band.
The first 100 copies of Toulon's Trunk will be available for pre-sale on 10/02 and on sale 10/16 exclusively at FullMoonDirect.com. More copies will be available in November.
And be sure to watch the World Premiere of the 11th and wildest Puppet Master movie, Puppet Master: Axis Termination's, first installment, "War Toys," available EXCLUSIVELY this Friday, September 15th, on Full Moon's Amazon channel in the U.S., U.K.. and Germany.
------------------------------------------------------------------------------------------------------
(08/26/2017)
PUPPET MASTER: AXIS TERMINATION to Stream in 3 Parts in September!!!
Joblo - A few years ago, Full Moon released a replica doll called "ReAnimation Blade", which was the iconic killer puppet Blade with his hook hand replaced by a syringe filled with a glowing green serum. It was said that this iteration of Blade would be playing a role in a PUPPET MASTER web series, but that web series never went into production.
When a new PUPPET MASTER sequel, PUPPET MASTER: AXIS TERMINATION, was shot last year, images from the film revealed that the syringe-handed "ReAnimation Blade" would actually be in this movie.
As it turns out, AXIS TERMINATION isn't just a feature film, but will also serve as the web series that was teased long ago. Full Moon has announced that they will be releasing the movie on their streaming service in three parts, with the first episode, "War Toys", set to arrive online on September 15th.
Full Moon founder Charles Band, who also directed AXIS TERMINATION, has said that the episodes will be coming out weekly, so you can expect to see episode two on September 22nd and the conclusion on September 29th.
The end of the World War II era trilogy that began with 2010's PUPPET MASTER: AXIS OF EVIL and continued with 2012's PUPPET MASTER X: AXIS RISING, AXIS TERMINATION tells the following story:
The Full Moon streaming service can be accessed at FullMoonStreaming.com. The company also has an Amazon Prime channel that can be reached through FullMoonAmazon.com.
Splitting the film into a Three Part streaming series is nothing more than a lousy cash grab. I'll wait for the full, uncut DVD release later on. Here's hoping they don't release each episode individually on DVD like Ravenwolf Towers.
------------------------------------------------------------------------------------------------------
(08/25/2017)
PUPPET MASTER: THE LEGACY is now on Blu-Ray!!!
Full Moon Direct - The 8th and strangest entry in Full Moon's venerable Puppet Master franchise, Puppet Master: The Legacy is a fascinating look at the mythology of the series, featuring a wealth of intense scenes from classic Puppet Master movies and an all new, intense framing story.
The film tells the tale of Eric Weiss (Jacob Witkin) who, as a boy in World War II Germany, was rescued from a grim fate at the hands of the Nazi's by kindly toymaker Andre Toulon. Fascinated by Toulon's supernatural ability to breathe life into his carefully crafted figurines, Weiss spends his entire life attempting to unlock Toulon's methods but, just when he's on the cusp of creating a living doll, a rogue agent named Maclain (Kate Orsini) breaks into his lab and subjects the apprentice puppet master to untold tortures in order to steal his secrets.
Time itself seems to stand still as the present meets the past, and the bloody legacy of the lethal puppets is revealed in a mind-bending freefall into Puppet Master mayhem. All your favorite characters - Blade, Pinhead, Tunnler, Six-Shooter, Leech Woman, Cyclops and more - appear in this innovative, pulse-pounding Puppet Master fan favorite that also features the finest of composer Richard Band's iconic music cues.
While I in no way hate this unusual entry to the series, I have wondered if the film even deserves its own Blu-Ray release. We all know Full Moon was going to release it that way, because there's more money to be made. But there wasn't much to this movie that warrants anyone going out and picking this up. I think this film would have been more appropriate as a double feature with the Curse of the Puppet Master Blu-Ray. I'd even argue the film is better suited for DVD Collection Sets. The Special Features include Trailers and the original "Videozone" NO STRINGS ATTACHED, a documentary produced for the original 1989 cult classic. It's a good little documentary, but it's nothing the fans haven't already seen. That's the problem. According to FX designer, Jeff Farley, they only worked for two days. I suppose even that wasn't enough for director Charles Band (alias "Robert Talbot") to at least record a Commentary. If you are a fan, and are willing to purchase this Blu-Ray, you're free to do so. Personally I think I'm going to skip this one. The DVD is good enough for me.

------------------------------------------------------------------------------------------------------

(07/14/2017)

CURSE OF THE PUPPET MASTER is now on Blu-Ray!!!


Full Moon Direct - Those malevolent puppets are back in Curse of the Puppet Master, the sixth installment in Full Moon's legendary fright film franchise!

This time, Andre Toulon's diminutive assassins take up residence at The House of Marvels, a traveling doll circus run by Dr. Magrew (George Peck) who has been trying to create a living doll of his own with little success. When Magrew and his daughter Jane (Emily Harrison) meet a talented young man named Robert (Josh Green) who has a gift for wood carving, the good Doc asks that he use his natural gifts to sculpt him a puppet. But as Robert gets deeper ingrained into the family's weird world, Magrew's darker and more monstrous plans reveal themselves an once more, Blade, Pinhead, Tunneler, Six Shooter and the rest of the gang are fighting for their master's honor…to the death!

Director David De Coteau (Puppet Master III) returns to the series for this strange, thrilling and violent entry, presented here for the first time, fully uncut in HD using a composite of the original 35mm negative, original SD release and Digi-Beta videotape master, making this the definitive version of this classic film.


------------------------------------------------------------------------------------------------------
(05/14/2017)
R.I.P. actor Curt Lowens of MANDROID and INVISIBLE!!!
The Hollywood Reporter - Curt Lowens, a Holocaust survivor and World War II hero who came to Hollywood and portrayed German officers in such films as Tobruk and Torn Curtain and on television in Wonder Woman and Hogan's Heroes, has died. He was 91.
Lowens fell recently and died Monday night at a rehabilitation center of Beverly Hills, according to the Los Angeles Museum of the Holocaust. "Curt was a beloved member of our community," it said in a statement.
A native of East Prussia (later Poland) who was held in a concentration camp, Lowens worked for directors Alfred Hitchcock in Torn Curtain (1966) and Arthur Hiller in Tobruk (1967) and drew on his wartime experiences for his roles in Two Women (1960), Counterpoint (1967), The Secret of Santa Vittoria (1969) and To Be or Not to Be (1983).
Auditioning for a part in The Hindenburg (1975), Lowens informed director Robert Wise that he had witnessed the German airship flying over Berlin as a child and was quickly hired.
Lowens also portrayed a Gestapo captain on Hogan's Heroes and an SS general on Wonder Woman and showed up on military-themed TV shows including 12 O'Clock High, Combat!, Mission: Impossible, The Six Million Dollar Man and The A-Team.
Born Curt Loewenstein on Nov. 17, 1925, he and his family were living in Berlin when his synagogue was burned down during Kristallnacht in 1938 and his bar mitzvah postponed. Fleeing to England, they were rounded up in Holland and sent to a concentration camp.
After his family's release thanks to some fortuitous paperwork, the future actor took on the guise of a teacher named Ben Joosten, joined the Dutch Resistance and helped save 123 lives by delivering Jewish children (and a few adults) to families who hid them.
He went on to rescue two downed American airmen — receiving a commendation from Gen. Dwight D. Eisenhower — and, while working as an interpreter with the British Eighth Corps, informed Hitler's successor, Karl Doenitz, that the war was over and the Germans had been defeated.
"My sanity turned around, the Gestapo knocking on doors," whereas by liberation, "I now knocked on doors," he recalled in an interview with The Hollywood Reporter's Peter Flax last year.
In 1947, he came to the U.S. and studied to become an actor at the Herbert Berghof Studio in New York. Taking the stage name Curt Lowens, he played an SS guard in the original Broadway production of Stalag 17, which debuted in 1951.
Lowens also portrayed Dr. Josef Mengele in the play The Deputy on the Great White Way, and his acting résumé also included The Mephisto Waltz (1971), The Other Side of Midnight (1977), Angels & Demons (2009) and a stint on General Hospital.
Lowens wrote a memoir, Destination: Questionmark, and most recently worked with high school students to create a six-minute animated film about his Holocaust experience called Curt Lowens: A Life of Changes.
In 2012, he contributed testimony to the Visual History Archive at the USC Shoah Foundation.
"Curt Lowens was a man who exemplified heroism at a time when heroes were in short supply," USC Shoah Foundation executive director Dr. Stephen D. Smith said in a statement. "He put himself at great risk to save others. By sharing his story, he has ensured that people will be inspired by his actions for generations to come."
Kathy, his wife of 48 years, died in December. They had no children.
Full Moon fans may remember him as the villainous Dr. Drago from Mandroid and its sequel Invisible: The Chronicles of Benjamin Knight.
------------------------------------------------------------------------------------------------------
(05/13/2017)
VICIOUS LIPS is coming to Blu-Ray August 29th!!!
Shout! Factory - When Vicious Lips bandmates Bree (Gina Calabrese), Mandoa (Shayne Farris), and Wynzi (Linda Kerridge, Fade To Black) get their one shot to make it as the galaxy's next big thing, they're over the moon with excitement. But their hopes soon come crashing back to earth: their lead singer Ace dies, and their big gig in the sky seems light years away! Hastily signing up the wide-eyed Judy Jetson (Dru-Anne Perry) to replace their Ace, the Lips blast off on a cosmic road trip to launch their meteoric rise to superstardom.
Written and directed by Albert Pyun (The Sword And The Sorcerer, Captain America), Vicious Lips takes you on a wildly unique trip to some of the strangest rocks in the universe.
Extras in progress and will be announced at a later date.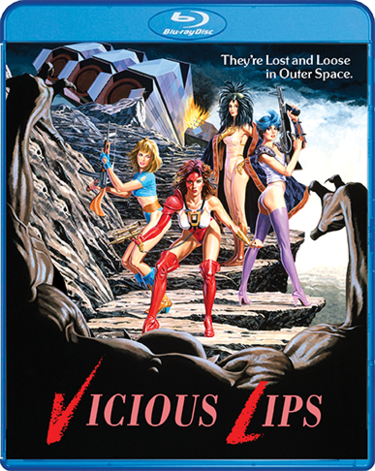 ------------------------------------------------------------------------------------------------------
(05/08/2017)
RETRO PUPPET MASTER is now on Blu-Ray!!!
Full Moon Direct - Get ready for the seventh spellbinding entry in Full Moon's iconic Puppet Master series: Retro Puppet Master! Directed by insanely prolific genre legend David DeCoteau (Puppet Master III, Creepozoids) and produced by Charles Band (Puppet Master, Hideous!), Retro Puppet Master dials back the clock, serving as both a thrilling prequel to Puppet Master III and as one of the most unique, evocative films in the franchise.
Actor and author Greg Sestero (The Room) stars as the young Andre Toulon, living a peaceful life as a puppeteer in pre-World War I Paris and courting the lovely Ilsa, the Swiss ambassador's beautiful young daughter. But the strings of fate that guide Toulon's destiny are about to pull him into an unexpected direction after he encounters the renegade sorcerer Afzel, who has stolen the mysterious secrets of life from the dark god Sutekh. When Sutekh's sinister servants arrive, and make Ilsa a part of their diabolical plans, it's up to Toulon and his army of custom made puppets to stop them at any cost!
Featuring the final appearance of actor Guy Rolfe as the elder Toulon and boasting rich production values, a fine score by John Massari and a much stronger emphasis on human drama, Retro Puppet Master is a trip back in time with a very different pack of puppets. Full Moon is proud to premiere this picture on Blu-ray completely remastered from the original 35mm camera negative.
* New audio commentary with director David DeCoteau & actor Greg Sestero
* 2 hours of rare behind-the-scenes footage with optional Director's commentary
* Original Videozone
* Full Moon Trailers
It doesn't look like it'll include the extended European version. How is it that RiffTrax was able to release the extended version, but Full Moon has not? Are there distribution issues with Kushner/Locke?
------------------------------------------------------------------------------------------------------
(03/25/2017)
Cast for PUPPET MASTER: THE LITTLEST REICH has been announced!!!

Variety - Thomas Lennon and Udo Kier will star in "Puppet Master: The Littlest Reich," a new take on the durable horror franchise.

The Cinestate production begins principal photography in Dallas next week. Jenny Pellicer, Nelson Franklin, Charlyne Yi, Alex Beh, Barbara Crampton, Tina Parker, Skeeta Jenkins and Michael Pare are also starring.

Sonny Laguna and Tommy Wiklund ("Wither") will direct from a script written by "Bone Tomahawk" screenwriter S. Craig Zahler. Dallas Sonnier and Amanda Presmyk are producing for Cinestate, along with Jack Heller of Assemble Media. "Transformers" producer Lorenzo di Bonaventura and Mark Vahradian of Di Bonaventura Pictures are also producers on the project along with frequent Laguna & Wiklund partner David Liljeblad.

Charles Band (the original franchise producer) is executive producing, as are Wayne Godfrey and Robert Jones of The Fyzz Facility, Jonathan Feuer of Flexibon Films, Red Sanders of Red Productions, Will Evans of Cinestate, Adam Donaghey, Johnathan Brownlee and Rick Prince. Frequent Laguna & Wiklund partner David Liljeblad is also producing.

"Puppet Master," released in 1989, was written by Band and Kenneth J. Hall, and directed by David Schmoeller. It stars Paul Le Mat, Irene Miracle, Matt Roe and Kathryn O'Reilly as psychics using deadly puppets — Blade, Jester, Pinhead, Tunneler, Leech Woman, Shredder Khan and Gengie — animated by an Egyptian spell and created by puppeteer Andre Toulon. "Puppet Master" was released direct-to-video and developed a following that led to nine sequels.

"Puppet Master: The Little Reich" centers on a recently divorced young man discovers a mint condition Blade doll in his deceased brother's closet and plans to sell the toy at a convention in Texas celebrating the 30th anniversary of the infamous Toulon Murders. All hell breaks loose at during the auction when a strange force animates all of the various puppets throughout the convention as they go on a bloody killing spree.

Producers assert that the new will include the puppet mayhem mixed with comedy while expanding upon Toulon's backstory. Kier will portray Toulon. Zahler sought out Laguna and Wiklund to direct due to his interest in their previous micro-budget horror films.

Lennon has extensive credits as an actor and writer and is best known for his work on MTV's "The State," Comedy Central's "Reno 911!" and CBS's "The Odd Couple." He is the writing partner of Robert Ben Garant; they've teamed on the "Night at the Museum" franchise and the upcoming "Baywatch."

Kier is a German actor with more than 200 credits. He's appeared in most of Lars Von Trier's films including "Nymphomaniac." Kier is also starring in Zahler's upcoming "Brawl in Cell Block 99," also starring Vince Vaughn, Jennifer Carpenter and Don Johnson.

Fans should remember actress Barbara Crampton already had a cameo in the original film, as the woman getting her fortune told. It's unlikely she will be playing the same character. I'm still not certain if the film is a full reboot or a loose sequel. Some say full reboot, while others say it's still technically a sequel, it just won't hold a strong continuity with the previous films. I'm finding it to be more of a reboot, seeing is Toulon's backstory will again be explored, and it's unlikely they'll follow Retro Puppet Master or Puppet Master III: Toulon's Revenge to the tooth. There is speculation that Toulon will be a villain, if this Toulon is even the same Andre Toulon we're all familiar with. But the idea this new Toulon may not be Andre is simply a rumor, and not to be taken seriously.

------------------------------------------------------------------------------------------------------
(03/16/2017)
PUPPET MASTER: THE LITTLEST REICH to begin filming March 27th!!!
Joblo - While Charles Band works at putting the finishing touches on PUPPET MASTER: AXIS TERMINATION, the latest entry in the Full Moon franchise, di Bonaventura Pictures and Caliber Media are moving forward with their PUPPET MASTER reboot PUPPET MASTER: THE LITTLEST REICH.
Scripted by BONE TOMAHAWK writer/director S. Crag Zahler, THE LITTLEST REICH is about a recently divorced young man who discovers a mint condition Blade doll in his deceased brother's closet and plans to sell the toy at a convention in Oregon celebrating the 30th anniversary of the infamous Toulon Murders. All hell breaks loose at the Postville Lodge during the auction when a strange force animates all of the various puppets throughout the convention as they go on a bloody killing spree.
Band will serve as an executive producer on the film, which is meant to be the beginning of a whole new PUPPET MASTER franchise while still featuring the "brutally inventive puppet kills" and "comedic tendencies" of the Full Moon films.
PUPPET MASTER: THE LITTLEST REICH is scheduled to begin filming in the Dallas, Texas area on March 27th, with production wrapping up on April 15th. This information comes from an extras casting call shared by the Dallas Film Commission.
The film is being directed by Sonny Laguna and Tommy Wiklund, the duo behind Swedish horror films WITHER and WE ARE MONSTERS.
Last week, the directors, producers, cast, and crew of THE LITTLEST REICH were in attendance for a free theatrical screening of the original PUPPET MASTER in Dallas. The 35mm print the audience got to watch that night was on loan from Band.
With cameras set to start rolling on THE LITTLEST REICH by the end of the month, we should be learning more about the project very soon. I'm really looking forward to seeing what a PUPPET MASTER movie written by the man who brought us BONE TOMAHAWK is going to be like.
It's been maybe a year since any news was announced in relation to this reboot. For some time I was worrying if this was even official or simply doomed for failure. As far as I know Charles Band has never commented on it. And what seems like overnight, they are suddenly ready for filming. I hope they announce the cast soon. Supposedly veteran actor Udo Kier (Suspiria, Blade) is playing Andre Toulon, but until we hear more, take that with a grain of salt.
From the sound the plot I figured it was a direct sequel to the original, ignoring all the previous sequels. But apparently it is a full reboot. We may be looking at a series of new films released simultaneously with the Full Moon franchise, if they continue that is. I would prefer a modern sequel, but considering Full Moon's financial woes, this may be the best we could hope for.
------------------------------------------------------------------------------------------------------
(02/24/2017)
RiffTrax tackles RETRO PUPPET MASTER in a brand new VOD!!!
RiffTrax - Oh hai, direct-to-video prequel to C-list 90s horror movie franchise!
Greg Sestero, who you might know from such roles as Mark from The Room and Retro Puppet Master, stars in Retro Puppet Master! Learn the answers to all your burning Puppet Master questions like: "Where did he get the puppets?" (He already had them) and "What kind of drugs, Denny?" (It doesn't matter)
To top it all off, Mark tries to pull off a French accent for the entire movie that somehow ends up sounding even faker and weirder than Tommy Wiseau's. You know those videos where a dog is holding a huge stick in their mouth and trying to get through a doorway, but they can't because the stick is too big? That's what it's like watch Mark attempt to act while simultaneously maintaining a "French" accent.
Fear not! No prior knowledge of the Puppet Master series is required. No, not even Puppet Master vs. Demonic Toys. Join Mike, Kevin, Chris R, and Bill for Retro Puppet Master.*
*Chris R was arrested before he was able to record. Mark assures us that "It's clear."
The cast of the cult TV series Mystery Science Theater 3000 return.
I love the Puppet Master films. This was the second film in the series I saw, after Curse. I didn't like it much at first, but it grew on me around the third viewing. I'm glad RiffTrax has decided to tackle one. Even if it was likely only because it starred Greg Sestero. If you're a fan of MST3K or of RiffTrax, you may want to check this out. Full Moon fans may also like to know this is the Region 2 European version, which includes footage not seen on the North American VHS or DVD releases. I just hope you all have a sense of humor.
Only $9.99 to Download the entire film, with commentary. If you'd like, feel free to Donate and help fund future releases. There's plenty more films out there, and plenty more laughs to be found.